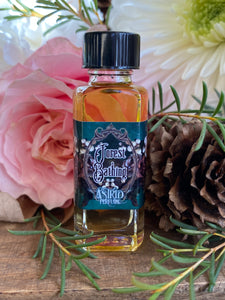 Forest Bathing
Regular price $27.50 Sale
Forest Bathing
French vanilla, white tea, fir absolute, oakmoss, green mandarin, fresh ginger, and forest accord.
In the last few months, I've discovered the joy and peace of taking my horses for walks in the woods, only to recently learn there is a Japanese experience called shinrin-yoku (forest bathing) that is so similar to what I was doing and have been feeling. This perfume is the experience of the sun breaking through the golden fall leaves and the damp, sound absorbing trees and earth making everything deliciously quiet.
Winter limited edition perfume.
8ml perfume oil in a glass bottle with gift box.
Vegan, phthalate-free, and cruelty-free. Longevity is best preserved by storing away from direct sunlight and significant temperature fluctuations. For topical use only. Do not use on broken or vexed skin. Discontinue if irritation occurs.