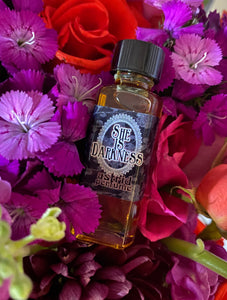 Crones Crate Contributions
Regular price $27.50 Sale
I was graciously asked by Nui Cobalt Designs to create perfumes for their Crones Crate subscription boxes a few years ago. Each box was themed for the sabbats (Beltane, Imbolc, Samhain, Lammas, etc). This is my remaining stock that I discovered tucked away in a box. It is very limited and once they are gone, there is no more! The amount indicated by the name is how many remain at time of making them available.

She is Waking (Imbolc, 7 remain)
This perfume encapsulates the stirring of life from within. It is the moment before spring truly arrives. It is the bud that begins to be within the branch before it breaks the surface of the bark. It is the lamb that turns within its mother's womb still not quite ready to come out into the world. It is the crone about to reappear, but as the maiden. It is you, wrapped tight in blankets, warm in bed, lightly stirring, consciousness waking, before you rise for the day. This is a quiet time when the ember is warm, but not a bold flame. This is a place of comfort and safety and respite. A languid and soft base of vanilla butter and marshmallow, a pair of lavenders, myrrh CO2, sacred frankincense, crushed rosemary leaf, and darkened amber warmed with glowing ginger oleoresin and clove. (Please note that this blend is not vegan as it contains butter CO2.)
She is Flame (Yule, 4 remain)
This perfume acknowledges the aspect of womanhood being the spark, flame, and blood to all human life. We bear witness to our born power and how we chose to wield that power from the first day of our period to pregnancy to trauma and to when our bodies close shop and we go through menopause. This perfume is fire and blood. It is our core. It is the ignition. Sugared blood musk accord, cinnamon amber, Egyptian rose, 11 year aged patchouli, ruby apple, wormwood, neroli, vetiver, ginger oleoresin, and sexy jasmine sambac.
She is Darkness (Samhain, 2 remain)
This perfume acknowledges the dark aspect of the feminine. The face of death, of loss and grief, the closing down of life to sleep, revering the dead, letting go, the profound strength in closing the door to life and of what we love so much. This perfume honors the goddesses of death and the underworld such as the Morrigan, Hecate, Persephone, Kali, Isis, Erishkigal, and Libitina. This perfume is a very dark and sweet blend of black and red currant, blackberry, dark woods, black amber, sweetened anise, tobacco, clove, wild thyme, wild mint, myrrh, and cinnamon.
She is Indolent (Litha, 1 remains)
When the sun is high, the daylight is longest, and all around nature is fecund with life, plush and verdant, she sits back for a spell. She will allow her self to tune out all of life's stressors. She is allowed to breathe deeply and slowly, inhaling all of the sweetness that this moment of the circle of life offers. Her feet are bare, her skin is glowing from the sun's warmth, her shoulder muscles are loose, and her eyes are soft. Heliotrope, sugared rhubarb, pink rose, vintage patchouli, honeysuckle, marigold, cognac, St. John's wort, and a bouquet of summer's prolific herbs containing mint, tarragon, thyme, marjoram, mullein, spearmint, and rosemary.
She is Metamorphosis (Lammas, 4 remain)
Lammas (Lughnasadh) is a sabbat that is about harvest and the reaping of the god figure to be born again in the spring as new growth, but let's look at what happens during the process of the harvest. Some crops are cut and processed in a manner that keeps them as close to their original form like beans or lettuces or fruits. Some crops, such as wheat, are dried, milled, and made into something new from their original. These crops are so radically changed from their initial green seed form and turned into something so wonderfully delicious. There are many who also go through a similar transformation. Some of us shift and change gently through our lives. Some of us go through much more radical change, changing our human form into something much sweeter and more comfortable for our souls and being. She is Metamorphosis is about this change and evolution of our selves. Unfurling velvet rose petals, sacred palo santo, sugared crepes, sweet corn, caramel, summer borage, rock rose, crisp apple, styrax, and sweet orange.
Limited edition perfume.
8ml perfume oil in a glass bottle with gift box.
Vegan unless otherwise noted, phthalate-free, and cruelty-free. Longevity is best preserved by storing away from direct sunlight and significant temperature fluctuations. For topical use only. Do not use on broken or vexed skin. Discontinue if irritation occurs.